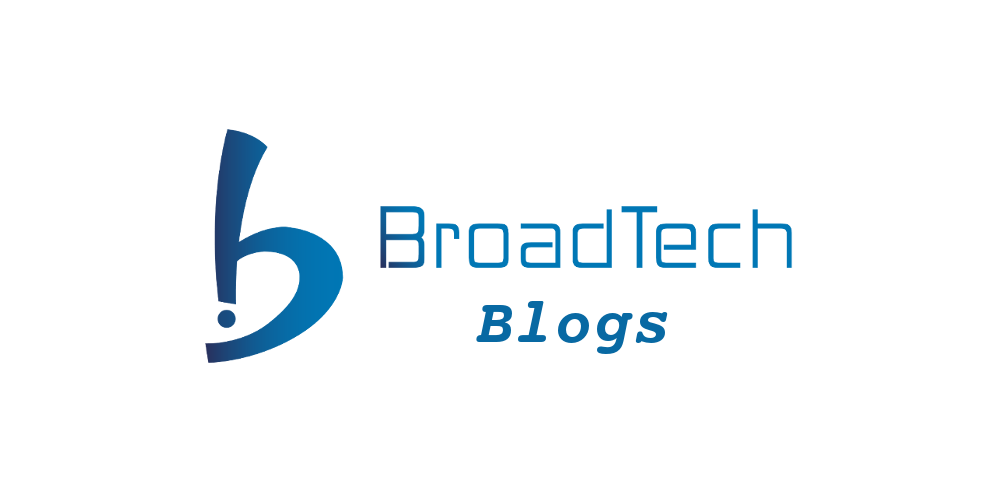 blog
Payroll Accounting and Salary Payment Reconciliation in Odoo 12
Vishnu Devaraj, May 29, 2019
      The HR Payroll application in Odoo when used along with Accounting app allows users to create automatic accounting entries if payroll accounting (hr_payroll_account) module is installed and configured properly. The following scenario explains how the HR department can create salary moves as payable entries while confirming employee payslips without demanding direct involvement of the accounting department. Such a feature can reduce the workload of accounts department by limiting its role into registering the salary payment and reconciling the entries only.
Target :
Configure Salary Rules for payroll accounting.
Create payable entries while confirming payslip.
Register payment (as vendor payment) via Bank
Reconcile the entries using payment matching feature.
Configure Accounts, Vendors and Payment Method
1 ) A payable account corresponding to salary, in the chart of accounts – "Salaries Payable"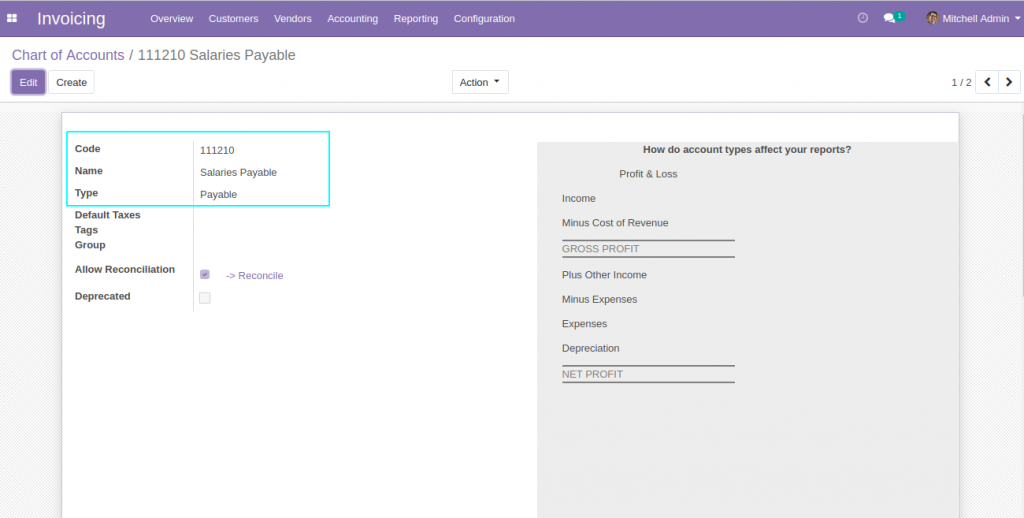 2) A common vendor(company) corresponding to all Employees –   "BroadTech Employees" . There shall be vendor records(individual/contact) corresponding to the employees as well .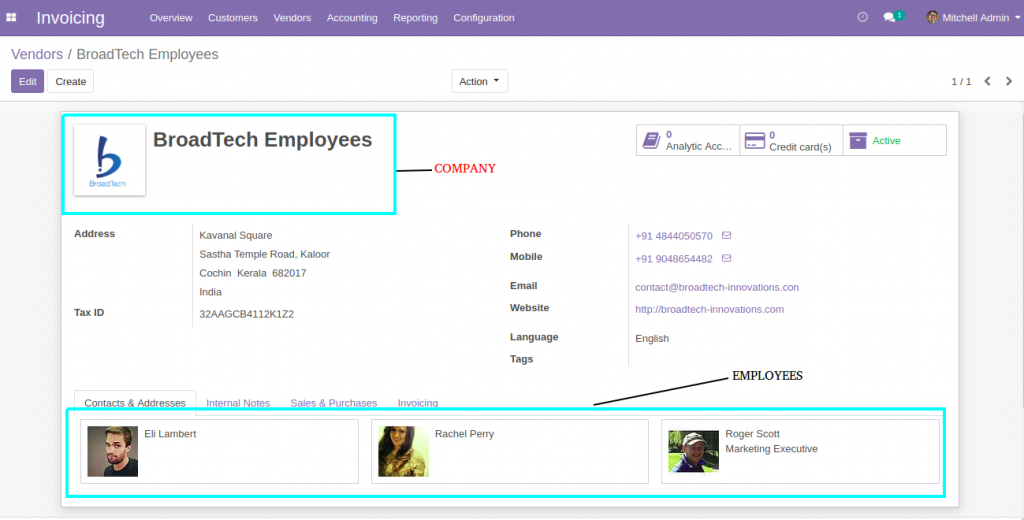 3) The payable account of the company "BroadTech Employees" shall be "Salaries Payable" . Contacts (Employees) shall not have separate payable accounts .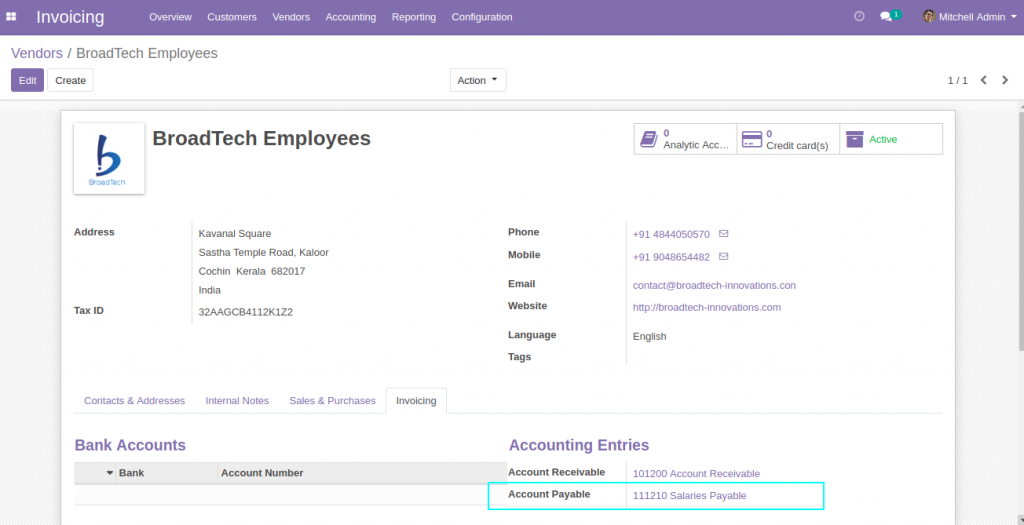 4) All employees should have separate vendor(individual) records, and the company of each employee shall be "BroadTech Employees"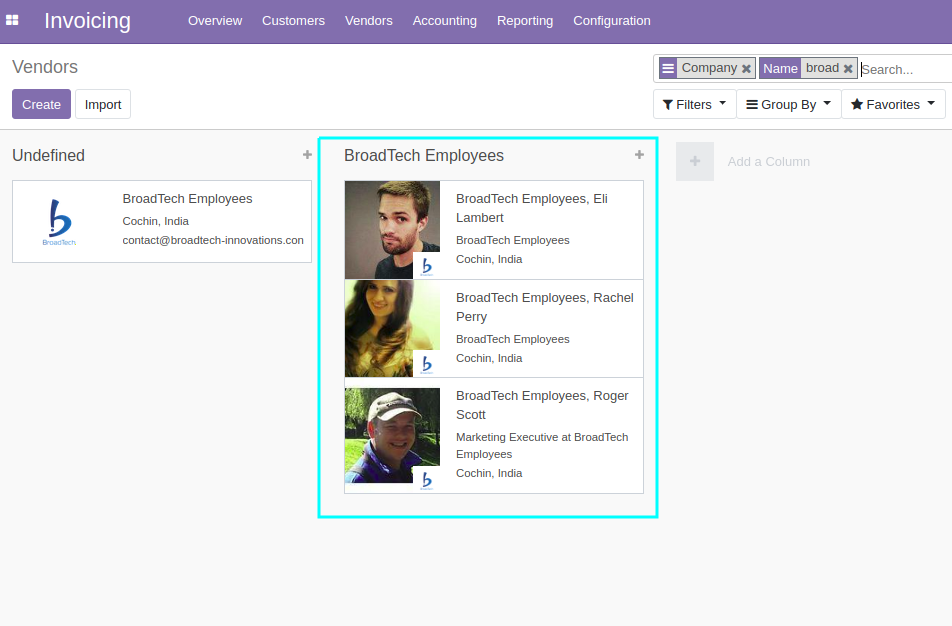 5 ) Payment method shall be configured to use in vendor payments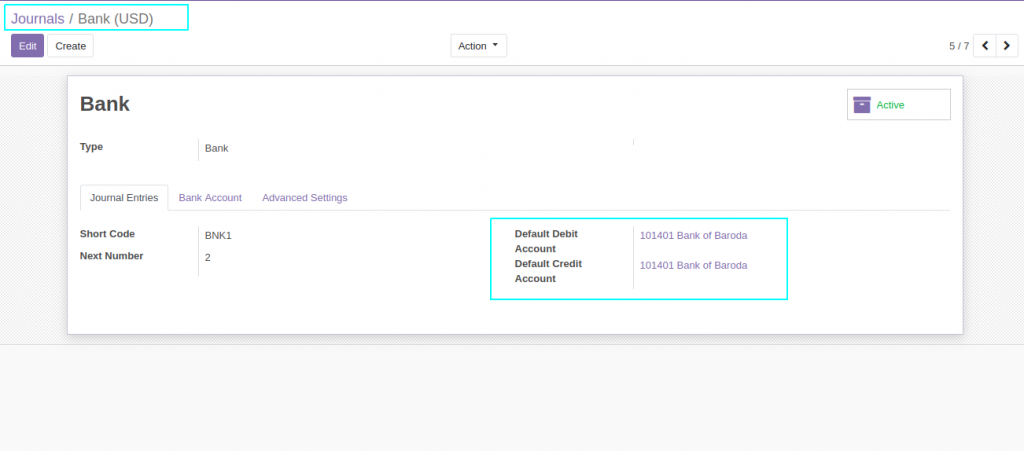 Configure Salary Rules with accounts
1 ) Configure Salary rules with proper debit and credit accounts(Relevant rules only)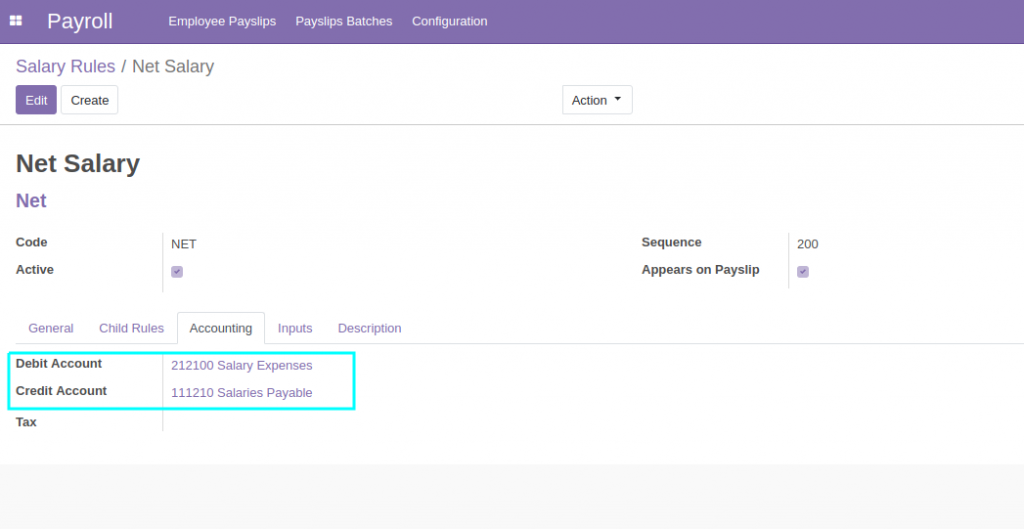 2 ) Configure Salary Rules with Proper Contribution Register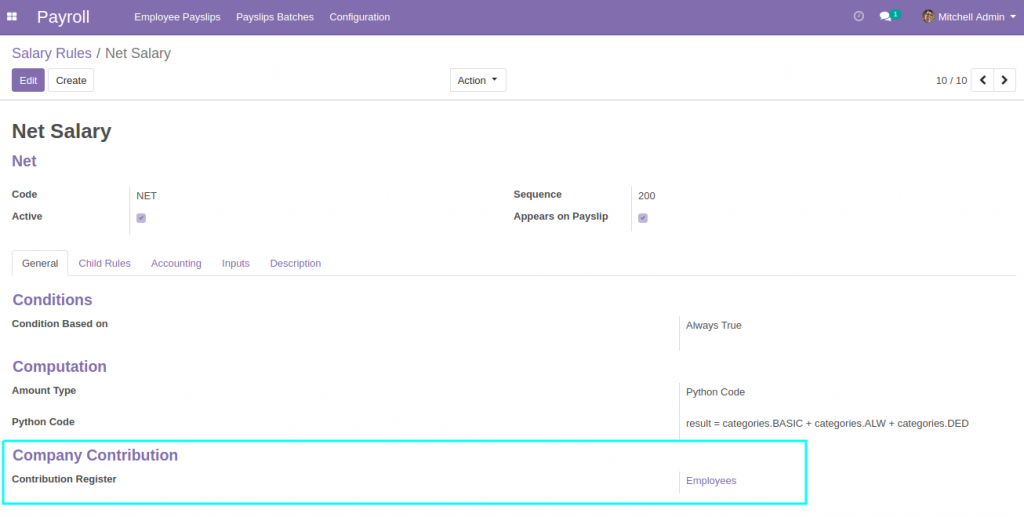 3) Make Sure that the correct Partner/Vendor is configured in the Contribution Register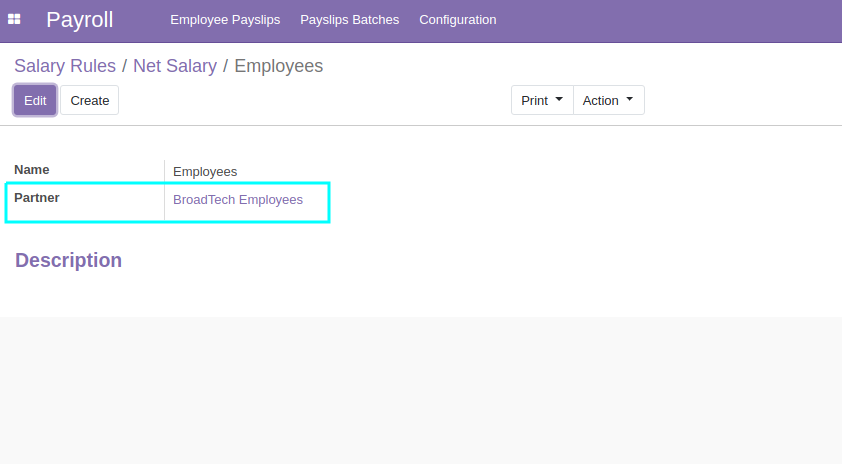 Configure Salary Structure and Contracts
1 ) Salary Structure is configured with selected rules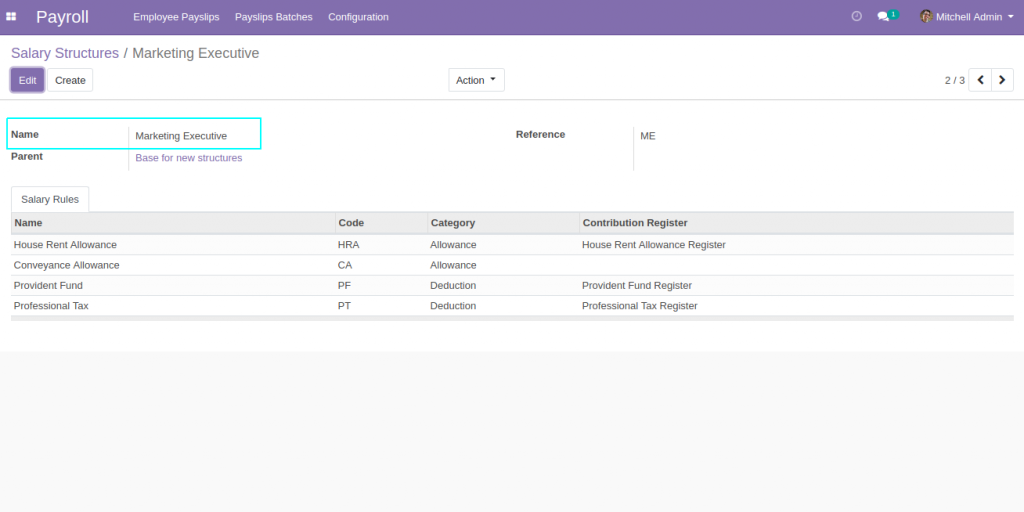 2 ) Contract is created for each employee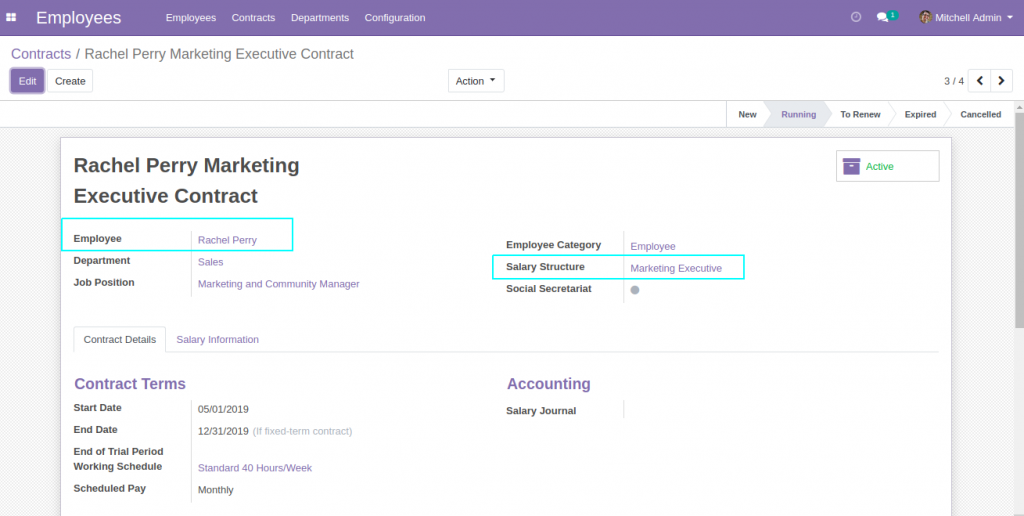 Generate Payslips and create accounting entries
1 ) Create Payslip Batches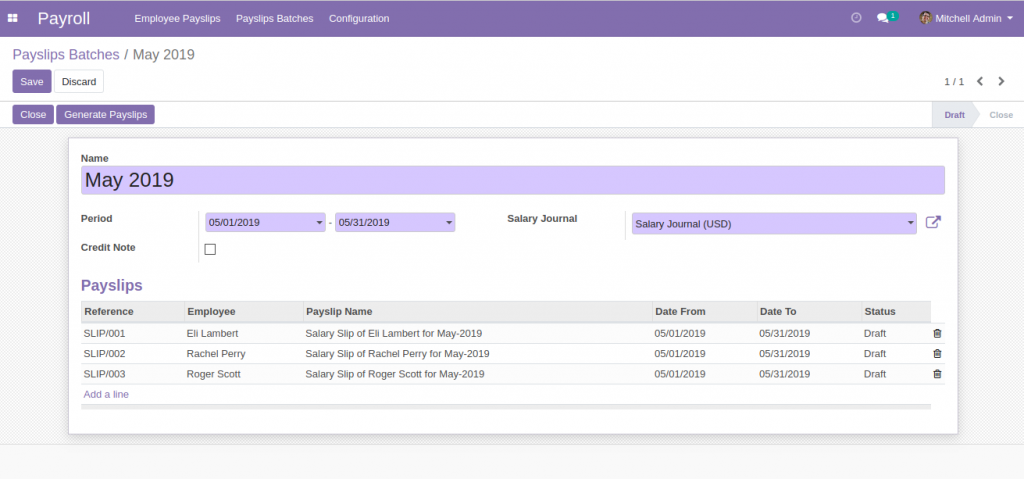 2) Open Each Payslips and confirm one by one to create accounting entries                                                                                                                                                                                                              

3) Payable entry is expected to be created for Net Salary as per the salary rule configuration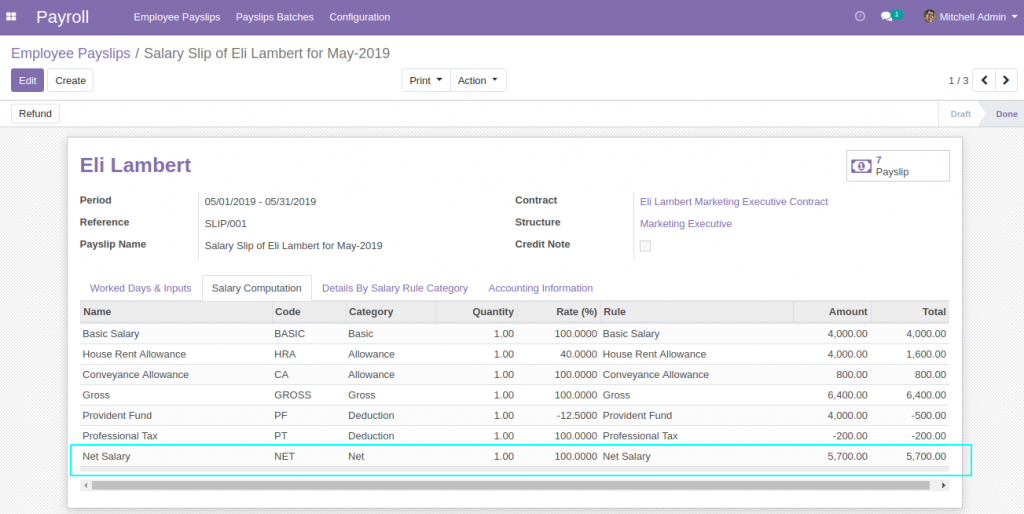 4 ) Accounting Entry can be seen in the "Accounting Information Tab"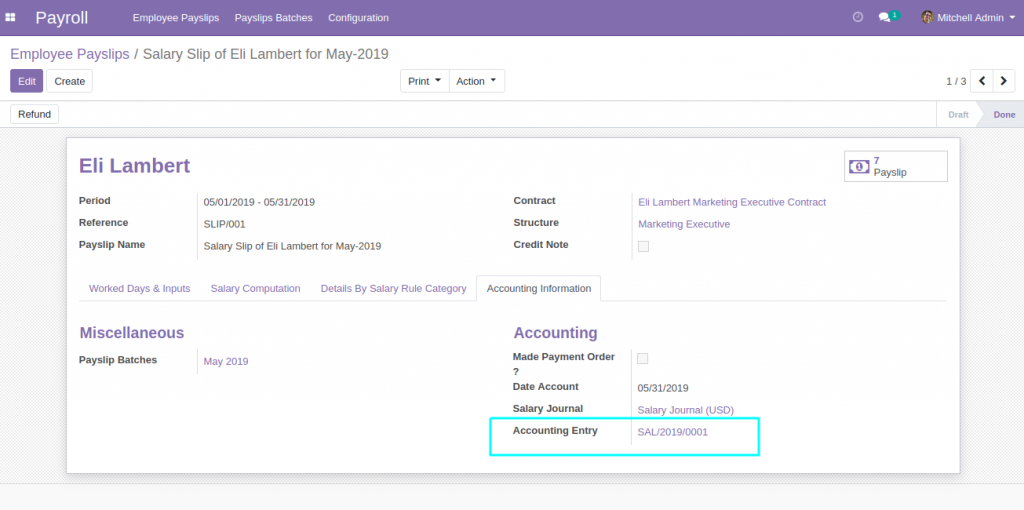 5 ) The accounting entry created would be as follows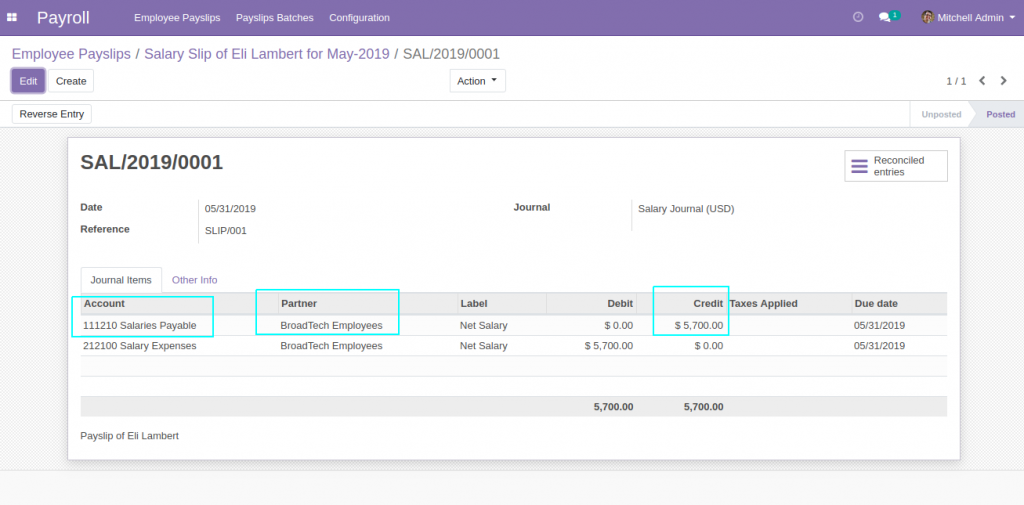 Debit "Salaries Expense" : Each journal item should have BroadTech Employee as partner
Credit " Salaries Payable" : Each journal item should have  BroadTech Employee as partner
6 ) Since all the employees in our example have same net salary. The total payable amount shall be  5700*3 = 17100
Register Salary Payment and Reconcile Payable Entries
1 ) Use the vendor payment option to register the salary payment . Choose "BroadTech Employees" as Vendor and "Bank of Baroda" as payment method. Payment amount shall be the whole outstanding salary payable(Latest Month total, if there are no pending salaries).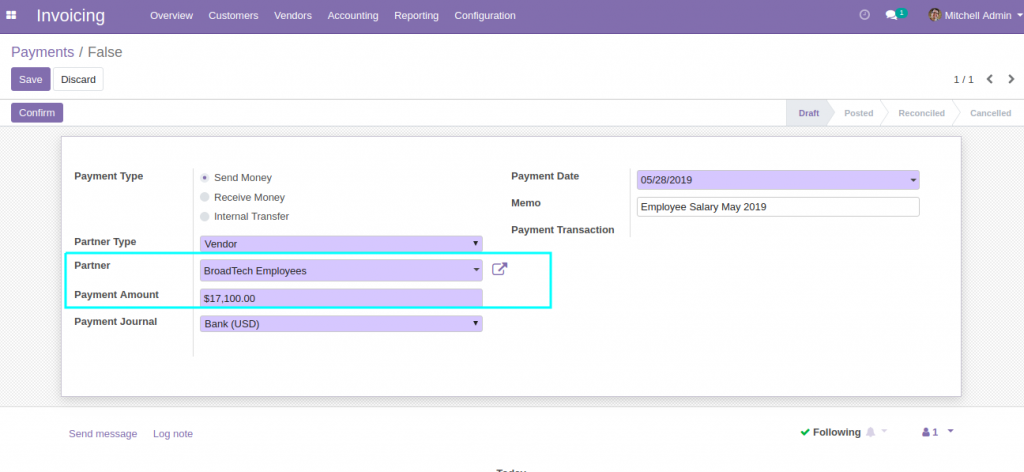 2 ) Once the payment is validated payment reference and Payment Matching appear.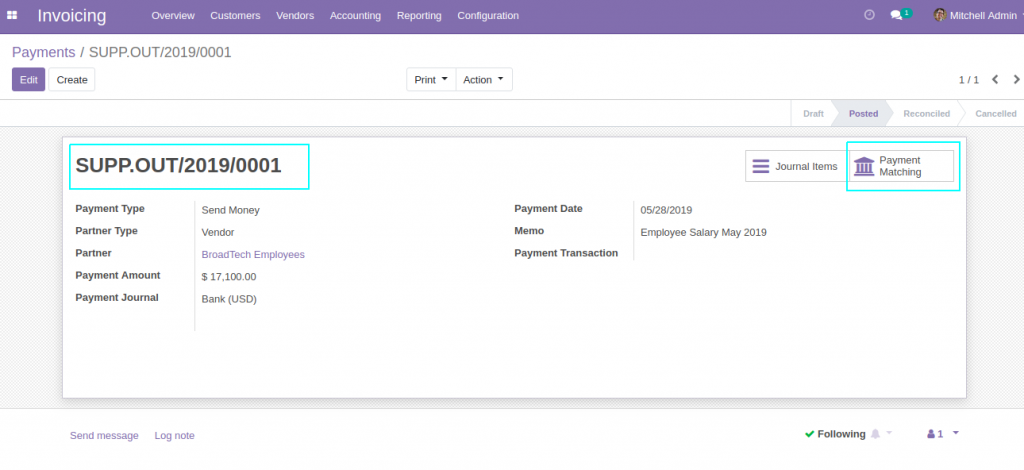 3) Payment Matching option would lead to the reconciliation window. We should be able to reconcile the journal items created against each employee during payroll confirmation, with the payment made now.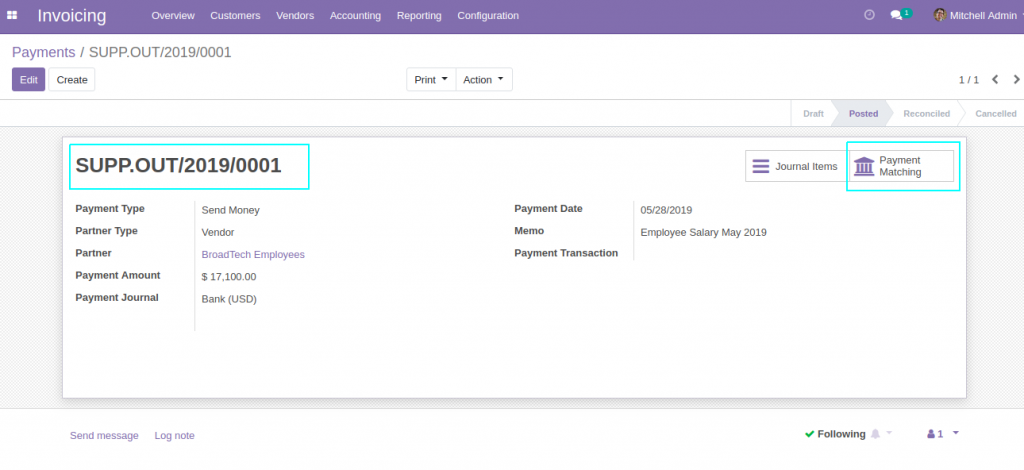 4 ) Clicking on the journal items would pick each item for reconciliation. Once the matching items (debit and credit side) are got selected, "Reconcile" button would appear automatically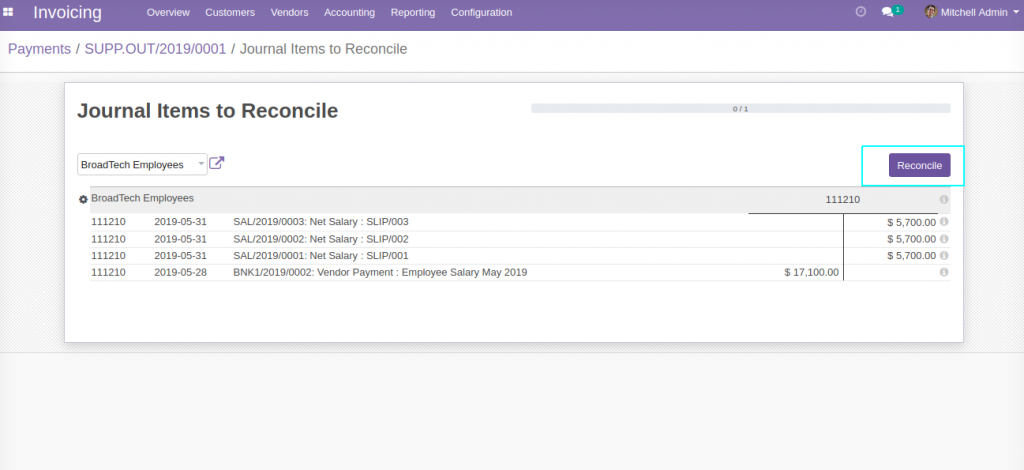 5 ) Successful "Reconcile" action would return a message screen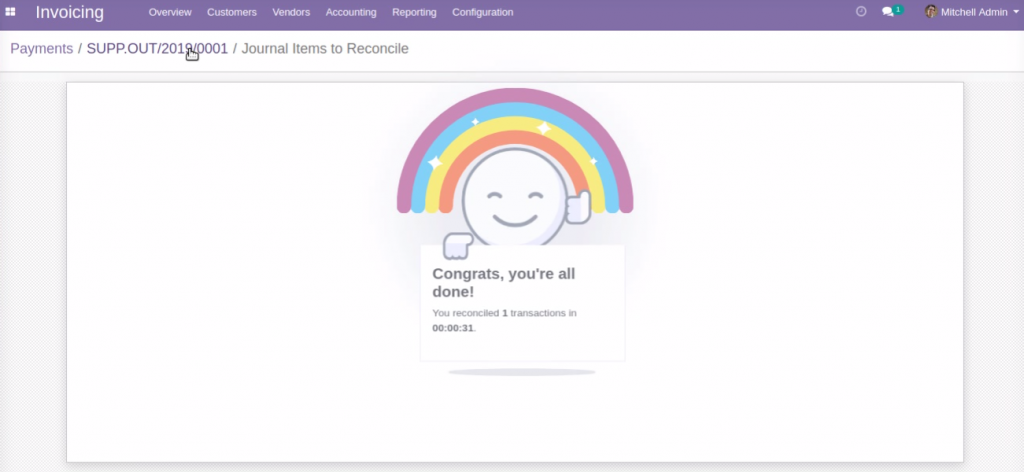 6 ) The posted journal entry would show the debit and credit side as follows
"Salaries Payable"  – Debited
"Bank of Baroda" – Credited.                                                                                                                                                                                       
Following YouTube video explains the process in detail.