HR Attendance Report XLS
The HR Attendance Report from BroadTech IT Solutions introduces an xls report of employee attendance details based on the sign in and sign out actions of users in Odoo.
Menu : Attendances / Attendance Report xls
User has the option to generate attendance details of all employees together or attendances of selected employees only. The report can be generated on Daily, Weekly, and Monthly basis.

Attendance of an employee is marked as 'P' in the report, if the employee is present on that particular date. 'A' indicate absence of the employee. The report counts total Absence and Presence as well.
Daily Attendance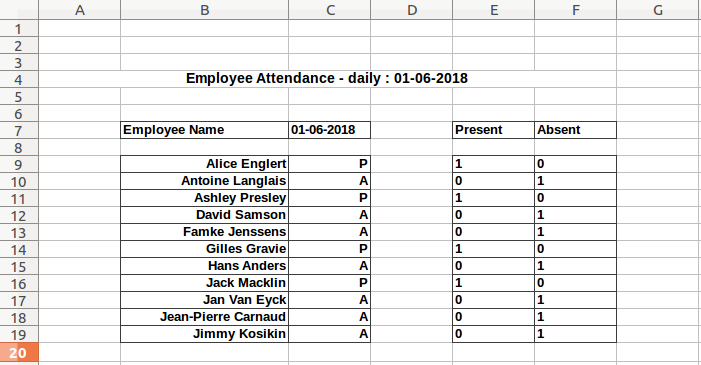 Weekly Attendance

Monthly Attendance
Attendance Duration

Unchecking the "All Employees" field would bring a new field into the view, "Employee", where user can select one or more Employees and the report will list details of the selected employees only.

The module blocks report generation with a warning if the user is not selecting any one of the "Print By" options.

Please refer link to the module in Odoo Apps  https://apps.odoo.com/apps/modules/11.0/bt_hr_attendance_report/