Paypal Payment in Invoices
Until version 8, Odoo had supported a feature to display payment methods such as paypal to be available as a link in the invoice form view, if the respective payment acquirer is installed and configured properly.

The feature was helpful in a scenario where the salesman or accounts department calls customer for payment of the invoice and complete the payment based on the payment details shared over the phone.
Company installs and configures Paypal Payment Acquirer app
Salesman issues invoices to customers
Customer fails to make payment in time
Salesman calls customer for payment
Customer shares credit card details over phone
Salesman clicks the Paypal Payment link in the invoice form
Chooses card payment option in the paypal page and complete payment
Company's paypal account receives money
Salesman register payment in Odoo invoice and the invoice become paid
This Odoo version 11 app from BroadTech has brought back the Paypal Payment link feature in the invoice form.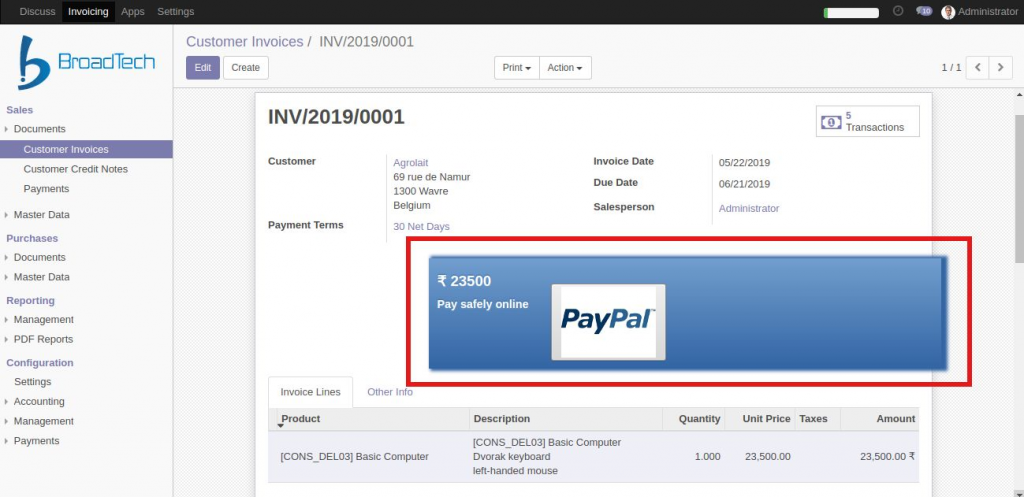 Please refer link to the module in Odoo Apps.
https://apps.odoo.com/apps/modules/11.0/bt_paypal_payment_invoice/