HR Leave Summary Report
The leave summary report from BroadTech IT Solutions introduces an xls report of employee leave details during a selected period.

The report can be generated for a specific department as well. Unless specified, it takes the whole data.

The first sheet of the report displays leave information in the order of date.

The second sheet is a summary which shows the total number of leaves taken by each employee.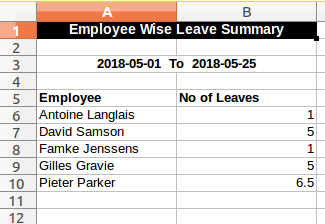 For more details refer this Video
Please refer link to the module in Odoo Apps.
https://apps.odoo.com/apps/modules/11.0/bt_leave_summary_report/